Christmas Tree bath bombs take just a few minutes to make and are great handmade gifts for the holidays.
You really can't go wrong with handmade Christmas Tree Bath Bombs. They're easy to make, fun to use, and coveted as gifts. Trust me, no one is going to re-gift these after you tuck them in their Christmas stocking. Not only that but they're quick to whip up and won't cost you an arm and a leg to make. You can even find the main ingredients in your local supermarket, drug store, or wholesale food suppliers.
The recipe below shows you how to make them with just a few food-safe ingredients plus a little extra for color and scent. It takes just a day for them to set and thereafter can be gifted and used immediately. You might want to tell the recipients that while they're bubbling away in the bath they'll fill the air with the natural scent of essential oils. If you dust them with the gold mica that's shown then it can cling to your skin after your bath too. Who doesn't love a little sparkle over the holidays?
Christmas Tree Bath Bombs
Makes 6-7
This basic recipe can be used to make four types of bath bomb: Lavender, Rose, May Chang, and Peppermint
You'll also need…
Step 1: Mix the dry ingredients
Place the strainer over a bowl and pass the baking soda, citric acid, Epsom salt, and mineral color (not the gold Mica though) through it and into the bowl below. In case you're wondering, the mineral colors are nature-identical versions of minerals that are mined from the earth. They're safer though! Mica is also a mineral but it shimmers due to being tinted with other colours. Mica is a common ingredient in eye shadows and other make-up.
Step 2: Mix in the wet ingredients
Put your gloves on if they're not already on. Measure the essential oil directly into the dry ingredients and then mix it in with your hands. Next spray the contents with the witch hazel, mixing thoroughly after each few sprays. You'll keep spraying and mixing until the bath bomb mixture can hold form when you squeeze it in your hands. I used 18 squirts of witch hazel to make mine though the amount coming out of other spray bottles may vary.
Step 3: Decorate the Mold
Spoon about half a teaspoon of gold mica into the mini strainer and then tap it over the mold cavities. It's pretty much like dusting a cake with powdered sugar. Next, sprinkle your chosen dried herb or flowers into each cavity.
Step 4: Fill the Mold
Now fill each mould cavity with the bath bomb mixture and pack it in tightly. There's enough mixture to make six or seven Christmas trees. When it's all packed in, place the mould in your freezer and leave it there for 45 minutes. This helps the bomb to set solidly before you pull it out of the mold.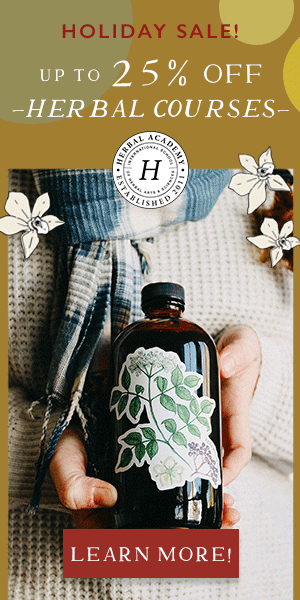 Step 5: Cure the bath bombs
Set the bath bombs on bubble wrap or a hard surface that's been covered in clingfilm. Leave them there to initially defrost and then harden up. This will take about a day.
Step 6: Package and give as gifts
The bath bombs fit nicely into organza bags that are 3×4″ or just slightly larger. Place them inside and then gift them to your heart's content! To use them, just drop a bath bomb into your warm bath water. Watch as it fizzes and dissolves before your eyes before releasing the essential oil and body-loving Epsom Salt. Best served with a Lovely Greens candle and a mug of Spiced Apple Wine.