Step-by-step calendula lotion recipe with the natural skin-soothing properties of calendula flowers, oats, and honey. Use it to nourish skin all year-round.
If there's one skincare plant that I can recommend for all skin types it's calendula. Most people grow it as a companion plant, edible flower, or to use in medicinal preparations but it's also amazing for your skin — especially in this calendula lotion recipe. The resins in the petals and entire flower heads are rich in compounds that promote healing, soothe discomfort, and infuse your skin with antioxidants. At the average beauty counter, you'll pay a hefty premium for calendula products but they're really very easy to make yourself.
Making my calendula lotion recipe begins with organic calendula flowers. You first infuse them in a light carrier oil then blend them with homemade oat-infusion and honey to make a light, skin-nourishing cream. It's much easier than you'd think.

Ingredients that soothe and moisturize
The ingredients in this calendula lotion recipe are chosen to soothe irritated skin, to moisturize, and to promote healing. Calendula is amazing as a skin-herb and it's also very easy to grow in the garden — please feel free to dry and use your own homegrown flowers to make this recipe. Working alongside calendula, oat-infusion adds creaminess and glide, and to make it, you can use quick oats from the kitchen cupboard. Honey gives natural moisture and additional healing properties, and don't worry, the lotion won't be sticky.
Handmade Calendula Lotion Recipe
Makes approx two 100ml pots
The cups and teaspoons measurements are approximate
Oil Phase
Water Phase
140g (1/2c + 1Tbsp) distilled water infused with oats

Cooling Phase
Special Equipment
Heatproof bowls and containers
Spoon
Step 1: Calendula Infused Oil
To make calendula infused oil, fill a pint jar half-way with dried calendula flowers. Pour the oil over, then seal and shake. Set in a warm but dim place for at least two weeks, but four is even better. Strain the flowers from the oil and discard. Store the golden oil in a dark glass container, or a dark place, for up to a year. To learn more about making infusions in water and oil head over here.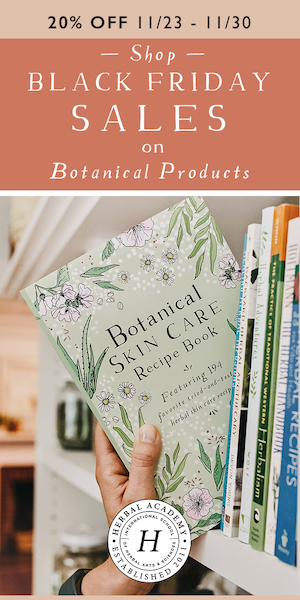 Step 2: Heating the Oil Phase
Place the oil and emulsifying wax in a heatproof container and melt them using the double boiler method — a pan set within another pan filled with hot water. When they're completely melted, take the temperature — you need them melted and at around 150F (66°C).
Step 3: Oat-Infused Water
While the oil phase is melting, make the oat infused water. Pour one cup scalding distilled water over one teaspoon quick oats and allow it to sit for a few minutes. Strain the liquid and discard the remaining oats. Weigh 140g of the liquid and use it for this recipe. Keep the oat water warm by setting the container inside another container filled with hot water. You want to keep it within a few degrees of 150F (66°C).
Step 4: Mixing the Phases
When the oils and water are at the right temperature, pour the water phase into the oil phase. Then use a spoon to stir them together for a few minutes. Set your lotion aside to cool for five minutes and then stir again. Gently stir every twenty minutes after until it has cooled to about 122˚F (45˚C).
Alternatively, and to speed things up, you can use a milk frother instead of a spoon. Submerge a milk frother in the oil phase and slowly trickle in the water phase. Use the frother to gently stir the ingredients together. Next, turn the frother on and blend the lotion until it begins to thicken slightly — it will take around 30 seconds. While you're frothing, try to keep the head of the frother completely submerged so as to avoid air bubbles and foam in your lotion. 
Step 5: Cooling Phase
The cooling phase is the part of the process that heat-sensitive ingredients are added. When the calendula lotion has cooled to about 122˚F (45˚C ), stir in the honey, vitamin e oil, and optional ingredients. If you're using a specific preservative, the manufacturer's directions will tell you at what temperature you can add it.
Step 6: Checking the pH
Now we need to test for pH. Stir a half teaspoon of lotion in 1-2 tsp distilled water. Dip one of your pH papers into liquid and then compare the color to the ones on the pack. Lotion and skin creams need to match the pH of your skin or they can be irritating and affect the effectivity of preservatives. If the pH is between 4.5-5.5 you're spot on. 
You can make the lotion more acidic (lower the pH) up by adding tiny amounts of lactic acid or citric acid dissolved in a small amount of warm, distilled water. Make it more alkaline (increase the pH) with triethanolamine or by dissolving a small amount of L-Arginine or bicarbonate (baking soda) in water and adding it. Pass it through the sieve and into the lotion. Take the pH reading again and adjust again if needed.
When the pH is just tight, spoon the cream into an air-tight container and use it within a week if you have opted to not use a preservative. A preservative can extend the shelf-life for eighteen months or longer.
Interested in learning more about calendula and using it in skincare? Get my ebook that includes recommended cultivars, how to harvest and use it, and recipes to make at home.