Make sugar coated edible flowers for spring desserts
Tips on how to crystallize primroses and other edible flowers. A simple activity that involves painting them with an egg wash and sugar to transform them into beautifully sweet decorations for desserts and cakes
Though most people think of flowers as ornaments for the home or garden, many of them are in fact edible. Lavender buds can be pressed into cookies, the essence of roses is used to make Turkish Delight, and Nasturtiums brighten up a summer salad with their peppery orange blossoms. Primroses are another great edible flower. You can use them fresh but to preserve them for longer, you can crystallize primroses in sugar.
Primrose flowers are Edible
Primroses are one of the most common and beautiful spring flowers and they also happen to fall into the edible category. Though personally I don't think they taste like much on their own, when coated with sugar they transform into a beautifully sweet and natural decoration that can be used on desserts and cakes.
Primroses come in a range of Colors
Primroses are low-growing plants with rough, tongue-like leaves. The color of the flowers may vary but they'll likely be a creamy yellow with a darker yellow centre if you find them growing wild in the countryside. You may well have them growing in your garden as well and in that case they can be pink, purple, white, or a range of other colors. All colors of primrose are edible.
How to Crystallize Primroses
What you'll need…
Egg wash – lightly beat the white of one egg with a teaspoon of cold water
Edible flowers and leaves – I'm using Primrose flowers and Peppermint leaves Sugar – fine textured white or brown granulated sugar will do. Icing/powdered sugar is not suitable. 
Instructions
1. If you're sure the flowers are clean then you don't need to wash them. If you do rinse them, you must let the flowers dry completely before continuing.
2. Using a clean paintbrush that has never been in contact with potentially toxic substances (think oil paint), paint the egg wash on a flower. Make sure to coat the entire surface, both front and back.
3. Pour 1/4 cup of sugar into a bowl and once the flower is coated in egg wash, place the flower in with the sugar. Coat as much of the flower's surface as you can then take it out and place the flower face-down on a tray lined with baking/kitchen paper. Leave to try for between 1-2 days; primroses take about a day to stiffen up but some of the thicker flowers and leaves will take longer.
4. Once hardened, use the flowers to decorate cakes, cupcakes, and desserts. They can last for up to a year if stored in a dark, dry place. These flowers are also so pretty that they're perfect for decorating a spring cake or even being packaged up in tissue paper and given to a friend as a gift.
If you've used light colored icing, like I have on my cake, edible leaves, such as Peppermint, create a nice backdrop for the flowers. You could even use them to recreate a rosette of Primroses like you'd find growing outside in the spring sunshine.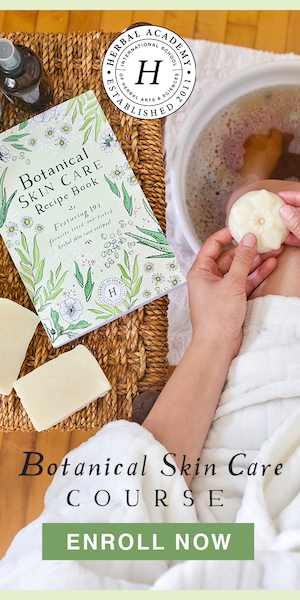 Other Edible Flowers
This is not a comprehensive list and if you have experience with another flower please let us know about it in the comments section below
Angelica – celery flavored
Borage (Starflower) – cucumber flavored
Burnet – lightly flavored like cucumber
Calendula (Pot marigold) – lightly peppery
Carnation (Pink) – spicy and anise-like

Chamomile – light apple flavor. Use only the flowers.

Chives – onion flavor

Gladioli – lettuce flavor

Hollyhock – no definable flavor

Impatiens – no definable flavor

Jasmine – sweet and floral

Lavender – fragrant and floral

Lilac – lemony and floral

Nasturtium – peppery

Pansy – lightly sweet to tart

Primrose – lightly sweet to no flavor

Rose – sweet and aromatic. Use only the colored parts of the petals

Runner and Climbing Beans – crisp and bean-like

Scented Geraniums – faintly citrusy

Snapdragon – no flavor to bitter

Squash & Pumpkin Flowers – sweet

Sunflower – may be slightly bitter but adds a lot of color

Violet – sweet and floral