Ideas for growing a skincare garden filled with healing herbs, flowers, and plants. Includes tips on growing them in the garden, containers, or indoors and continues with ideas in using them in DIY herbal skincare
There's a fine line between health, medicine, and beauty. The same herbs that flavor our food or tea can soothe and heal us from the inside. In many cases, those same herbs contain extracts that can treat skin complaints or make it feel refreshed, clean, and hydrated.
Growing a skincare garden is for beauty enthusiasts as growing a vegetable garden is for foodies. Access to fresh and organic produce that has been cultivated from seed to plant. You know its whole life story – how it was grown, when it was picked, and just how far it's had to travel. The trip from the garden to the kitchen probably has fewer food-miles than your average packet of plastic-wrapped supermarket herbs.
Herbal Skincare Series
This is the second piece in a series on creating your own plant-based skincare. It focuses on options for cultivating skincare herbs in the garden, patio, or indoors.
Herbs for Skincare
There are plants that can help almost any skin complaint. Chamomile helps soothe eczema, thyme can kill the bacteria responsible for pimples, rose petals create a refreshing skin toner, and lavender promotes skin healing.
The first piece in this series, Using Plants, Flowers, and Herbs for Skincare, goes through more than twenty skin-beneficial herbs. It will help you choose which ones you should focus on growing.
Planning a beauty and skincare garden
If you grow a garden, you probably already have skincare plants, whether you realize it or not. They're a diverse group and range from shrubs to aromatic herbs, vegetables, and weeds. You'll think twice about pulling out plantain or chickweed after hearing what they can do.
Although you could grow a garden specifically for beauty herbs, it's much more feasible to just make space for them. It could be a small garden bed or peppering herbs around the garden that work as companion plants to veggies.
On the other hand, you might live in an apartment but would like to grow herbs all the same. Your space will determine how and where you grow them but learning the needs of each plant will help you to succeed.
Growing a herb bed
I have two beds in my allotment garden dedicated to herbs and skincare plants. I grow two types of mint, lemon balm, oregano, chamomile, lavender, rosemary, a few others, and of course my favorite, calendula. If there's one skincare plant that I recommend for you to grow, it's calendula.
Herbs will happily grow sandwiched together, especially if they love the same soil types. Mediterranean herbs like thyme, rosemary, and lavender grow best in well-drained soil. In fact, you could even plant a long row of lavender to create a fragrant lavender hedge. Think of all the flower buds you could harvest from one.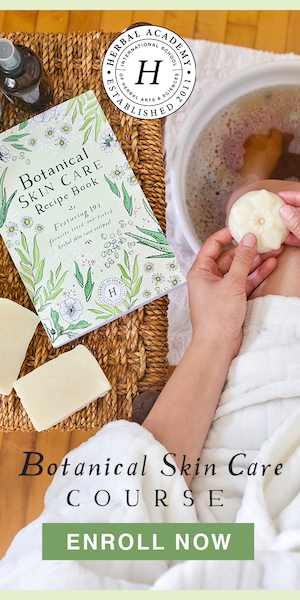 Leafier greens like lemon balm, parsley, and mint prefer moister and more fertile footings so they'll grow well together too.
Other plants will grow anywhere and are less fussy about where you put them. Calendula seems to thrive on just about any type of soil and will spring up from any open patch if you give it the chance.
Herb Spiral
One brilliant piece of Permaculture design is the herb spiral. It's a mounded vertical garden bed that winds around like a spiral. You use bricks or stone to build up the sides.
Usually, about three feet high by six feet wide, herbs that like it on the dry side are planted in the middle which is also the top. Herbs that like moisture soil are planted closer to ground height at the bottom of the spiral.
In this way, you can grow quite a few different herbs together in a relatively small space. It's also a creative garden feature that could be the focal point of your garden.
Skincare herbs as companion plants
Not only are plants amazing for our own health but they can help other plants too. Basil intensifies the flavor of tomatoes and sage and thyme help brussels sprouts to grow. Lavender helps several other types of herbs along with lettuce, squash, and onions.
What this means is that it may be more beneficial for your garden if you scatter your skincare plants around. Instead of just one bed or area, situate your plants where they'll do the most good as a companion plant and you'll get double the harvest.
Container Garden
Some skincare plants that do better in an open garden — marshmallow (Althaea officinalis,) and witch hazel (Hamamelis) for two. Most others can be grown in pots and containers.
If you liked the sound of the herb spiral mentioned a little earlier, there are custom herb spiral garden containers you can get. Better yet, you can grow herbs in a vertical planter like the GreenStalk planter. It maximizes the herbs you could grow on a small patio or balcony. This year I'm growing carrots in mine but I've used it as a vertical herb garden before.
Skincare herbs grow just as well in simple terracotta pots, window boxes, hanging baskets, and other containers. On my back patio, I currently have apple mint in a terracotta pot and chives in another. I also have a large L-shaped planter outlining the patio and in it are rosemary, thyme, sage, and lavender.
When planting up herbs in containers, research what kind of soil is best for them. Lavender will grow in large pots but needs good drainage and protection from the cold in winter. Mints in my experience will grow in anything but on a patio will need to be kept out of hot summer sun. There are very few skincare herbs that you can't grow in pots if you give them the attention and care they need.
Growing skincare herbs indoors
The challenge to grow any plants indoors is that it's up to you to replicate their needs for sun, water, and nutrients. Things that you can at least partially rely on nature to provide when you grow plants outside. Saying that, it's entirely possible to grow your own skincare plants indoors. At least some of them.
Smaller herbs will grow in east or west-facing windows – south and north-facing windows can give too much or too little sun. You can use ordinary potting compost and mixtures but it's better to begin with sterile mixes specifically for house plants. I suspect that fungus gnats, a house plant pest, can come from ordinary compost.
The biggest challenge to growing plants indoors is watering. Not under watering but over-watering – it can weaken the plant, cause foliage die-off, and exacerbate the fungus gnat issue.
If lighting is a concern, you can grow plants with specialty house plant lights or even standard grow-lights. Though I'm not a hydroponics gardener, that's another idea for growing your own indoors.
Using herbs to make skincare
The next piece in this series walks you through how to transform your skincare herbs into actual skincare. The trick to getting the beneficial compounds in the leaves, roots, bark, and flowers into the recipe ingredients. Namely, oil, water, glycerin, and in some cases alcohol. Stay tuned.
Herbal Skincare Series